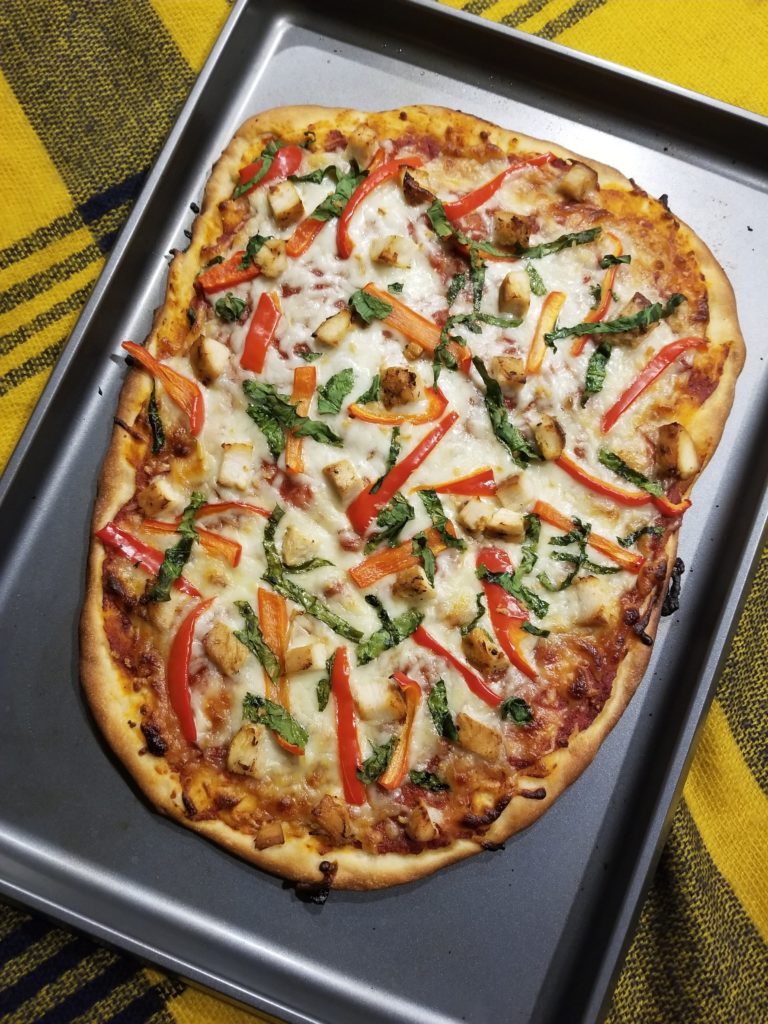 Growing up I loved about 99.99% of everything home made. Fresh ingredients, authentic flavor, and major skills (shout out to my mom). But the exception? Homemade pizza. Don't get me wrong- I love pizza, who doesn't? But homemade pizza was barely pizza in my mind. Homemade pizza usually meant a thick crust, which meant it wasn't crispy and delicious. And, for me, pizza dough will either make or break the pizza. Suffice it to say, I never opt for homemade pizza. If someone wants pizza, I say order out.
And thennnnnnn… fast-forward to now. Now, I'm in my second year of medical school. To keep it short, stress + no time/energy to workout= lots of weight gain. So starting back this year, I've been monitoring my portions and junk food and exploring more recipes that balance "healthy" and "delicious". I've never been one to limit my cravings or to sacrifice taste (meaning that I do not do well on diets haha). I've always enjoyed cooking, but doing it more often and exploring new tastes or cuisines has really helped me stick to healthier options.
But cycling back to pizza…4-5 slices is about the intake I should have in a full day. But cutting out pizza in my diet is a no go. Hence, I decided to tackle homemade pizza (half the calories + more freedom in toppings/taste). And holy shit. I can finally get behind homemade pizza. This dough is perfect and crispy and delicious, the sauce was flavored with herbs and spices, and the toppings were fresh and flavorful. After this recipe, I am officially on board on the homemade pizza train.
Homemade Mozzarella Pizza topped w/chicken, bell peppers, and spinach
2018-09-28 10:58:25
For Crust
3/4 cups water
1.5 teaspoons active dry yeast
1 tbsp sugar
1/8 cup oil
1 teaspoon coarse salt
2 cups flour
For sauce
2 Roma tomatoes
1/2 can of tomato paste
1/4 teaspoon dried oregano
1/4 teaspoon dried basil
1/4 teaspoon ground black pepper
1/8 teaspoon cayenne pepper
1/8 teaspoon dried red pepper flakes
1/8 teaspoon salt
For pizza toppings
170 grams Mozzarella
80 grams chicken
1/2 red bell pepper
1/2 cup spinach
1 teaspoon minced garlic
For the crust
Pour warm water into a large bowl and mix in the yeast. Set aside for 5 minutes.
Mix in the sugar, oil, and salt into the yeast mixture.
Add flour and mix until dough comes together.
Oil a large bowl and transfer dough, brushing additional oil on top.
Cover with plastic wrap and set aside for 1 hour, or until dough has doubled in size.
For the sauce
In a blender, add the tomatoes, paste, and herbs. Blend until equal consistency (remember that if you don't like spice then adjust herbs to taste- so start with less spice and add as needed!)
For the Pizza
Preheat oven to 500°F.
Knead and roll out pizza dough into circular shape, trying to keep a level thickness throughout.
Oil a pan and add rolled out pizza dough.
Add generous amount of pizza sauce. (Can brush oil on crust and sprinkle additional herbs or garlic on crust.)
Add layer of mozzarella cheese. Sprinkle with fresh spinach leaves, chicken, red peppers, and garlic.
Cook pizza for around 10 minutes, until crust is golden and cheese is bubbly.
Spoonful of Something http://www.spoonfulofsomething.com/