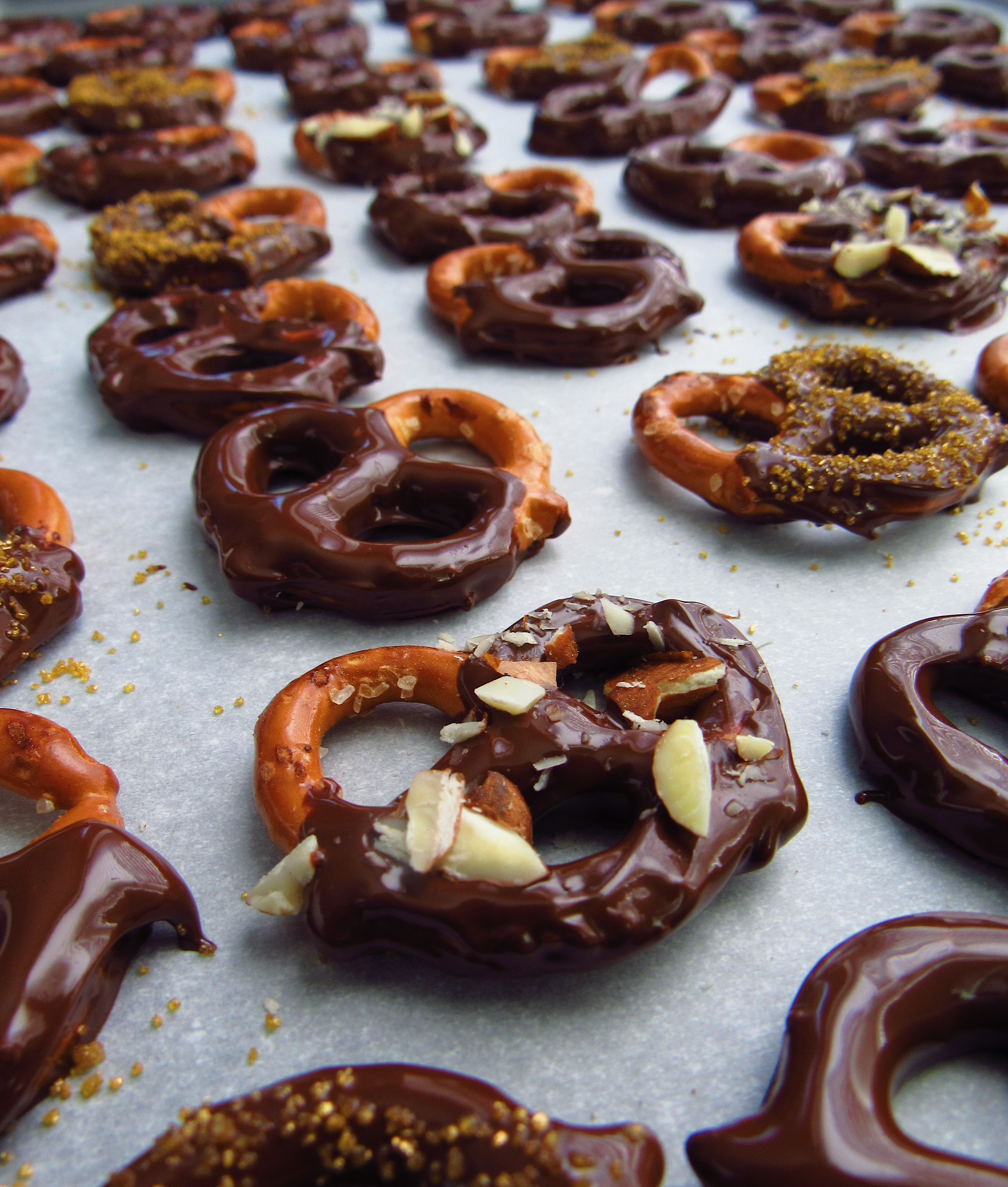 Balance makes the best recipes. Yeah yeah, that usually means balancing flavors together to get the perfect recipe combination, but when I say it I'm usually thinking of a hot gooey chocolate pie topped with cold ice cream. The true b-a-l-a-n-c-e.
This time, however, I mean a classic: salty & sweet. Mini salty pretzels dipped in delicious dark chocolate. A perfectly balanced snack that can satisfy the chocolate craving & quieten the "where's my bag of chips?" questions.
These are super simple to make & even easier to customize to your liking. I wanted to make some for my friends (who are pretty fancy and fabulous) so I made sure to add gold sprinkles on a few, but I also knew my sister would love these so I made her batch with topped and chopped almonds. The toppings truly don't alter the taste but they up the "wow" factor to make these homemade pretzels even cuter and more appetizing! Don't be limited by toppings, you can do nuts, sprinkles, coconut flakes, or another chocolate stripe drizzled across them. Also don't forget that pretzels vary themselves! So get mini pretzels, full size, or rod-shaped pretzels. They're all pretty easy to dip and they all are great snacks to keep on hand.
Dark Chocolate Dipped Pretzels
2019-02-07 16:29:45
Ingredients
110 grams (1 cup) dark chocolate chips
85 grams (1 cup) mini pretzels
Instructions
Prepare a baking sheet with parchment paper. Set aside.
Set up a double boiler by putting a small pot of water on the stove with a fitted bowl on top. Allow water to heat but not boil over.*
Pour chocolate chips in the bowl on top. Allow chocolate to melt, stirring occasionally.
Once fully melted, remove from heat. Grab pretzel by a corner and dip into chocolate. Lay coated pretzel on parchment paper.
If desired, add toppings to pretzels. You can add chopped almonds or colorful edible glitter.
Once all pretzels are fully coated, refrigerate for 10 minutes or until chocolate is firm.
Notes
*Try to make sure to not let the water boil up as it may accidentally mix with the chocolate in the bowl above. Water causes chocolate to not melt and mix properly.
Spoonful of Something http://www.spoonfulofsomething.com/