Chocolate Chip Cookies are basics for bakers, right? That's what I used to think. But then I would make a batch and about 6 out of 10 times, they would flat out fail. Either the cookies would be too flat or they would be too crispy and not chewy enough- or they just looked flat out lame. It was weird. I could never figure out what went wrong! I would make cakes or macaroons or bars or pies- and they were consistently wonderful and delicious. Thinking the cookies must have been a fluke, I would try whipping up a batch of cookies and SPLAT- a whole batch of unappetizing cookies. Time after time I couldn't figure out a recipe or trick that would make a delicious (and gorgeous) chocolate chip cookie every time. Honestly, with how many failed attempts I had, it probably would have made sense for me to stick to store bought cookie dough (which I definitely don't judge because, damn, Tollhouse has the secret pretty much down).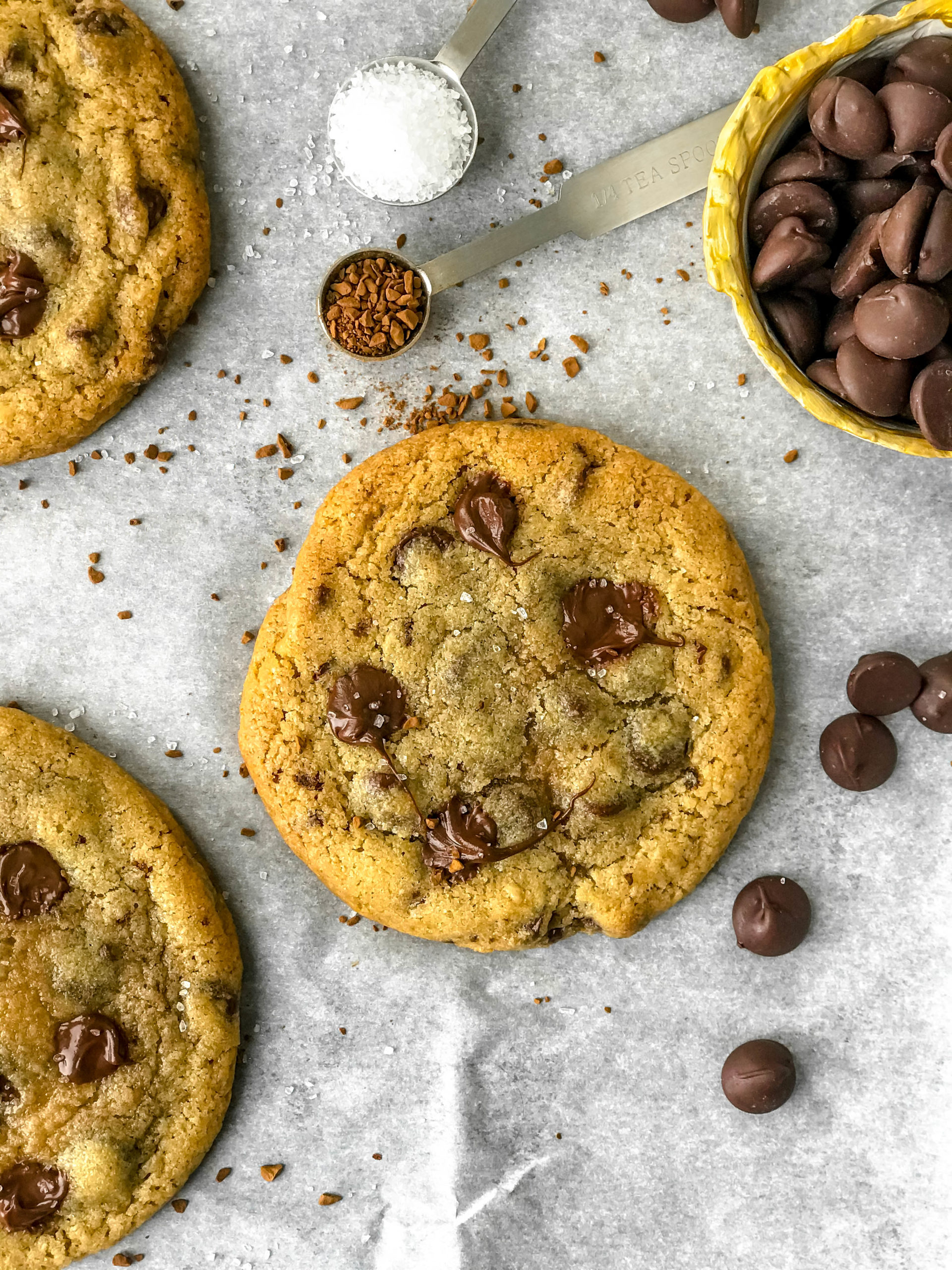 However I'm glad to say that (only about a gajillion failed attempts later) I finally figured it out. I was able to tweak my recipes and fine tune them into one consistent recipe. Although that was just half the battle. The second half was trying to figure out tricks and tips that would help assure the perfect ooey-gooey cookie every single time (and thank god for that because honestly, the worst is dedicating time in the kitchen with no sweet dessert to reward your work!) I finally came across 3 simple tips that would assure my cookies came out thick and bakery-style gorgeous:
1. The butter absolutely needs to be softened.
I'm sure you've heard this before but it's true- it's essential to the perfect recipe. It helps blend all the ingredients together and maintain that exact smooth texture needed for the perfect cookie. Try to plan a few hours earlier so you can take the butter out of the fridge before your cookie cravings hit! Don't try to heat up the butter last minute, melted butter is definitely a no-go, as I explain in #3.
2. Make sure you're using the correct amount of flour.
Too little and they will flatten. Too much and they're gonna be tough and stiff. Make sure you use proper cup measurements and level off the top of the cup with a knife!
3. The dough should be chilled before baking.
This was something I was definitely guilty of. How did I not realize that temperature was so important?! I would over mix my ingredients or make my ingredients super melted. In my mind, I thought this would help mix the ingredients and blend everything better….oops, major mistake! The final dough needs to hold up in the oven, so make sure you aren't overmixing or using hot ingredients. I always pop my dough in the fridge (or even freezer!) while the oven preheats. The cookies keep together much better!
Classic Chocolate Chip Cookies
2018-12-28 10:00:50
Ingredients
1/2 cup unsalted butter, softened
1/4 cup white sugar
1/2 cup + 2 tablespoons light brown sugar
1 teaspoon vanilla extract
1 large egg, at room temperature
1 1/2 cups all-purpose flour
1/2 teaspoon baking soda
1/2 teaspoon sea salt
1 1/4 cup chocolate chips
Instructions
Preheat oven to 350 F
In a large bowl, place softened butter and both sugars. Mix together until combined.
Add in vanilla and egg until mixture is pale and fluffy.
Mix in the flour, baking soda, and sea salt until combined.
Finally, stir in 1 cup of chocolate chips.
Prepare baking sheet with parchment paper.
Scoop spoonfuls of dough onto sheet, about 2 inches apart. With the remaining chocolate chips, place on top of cookie scoops to get that perfect cookie look!
Place into fridge or freezer for atleast 10 minutes or until chilled.
When ready, bake cookies for 8-12 minutes. Take them out when cookies are starting to brown on the edges but the center still looks uncooked.
Leave cookies in pan and allow them to cool for 5 minutes.Then remove from pan and enjoy your perfectly ooey-gooey cookies!
Spoonful of Something http://www.spoonfulofsomething.com/